EXTRA! EXTRA!: Amazing New Generation Technology Increase Your Website's Profits And Adds Thousands To Your List With Just 4 Clicks!
"Friend, Would You Like To Boost Your Site's Profits By 300% Into Overdrive And Skyrocket Your List Into The Stratosphere By 250% Using A
Top-Secret

Software That Your Competitors Will Never Want You To Even Know About?"
Interestingly, Using This Software Is So Simple, So Intuitive, That You Will Easily Incorporate It And Be Up And Running In 5 Minutes, And Just 4 Clicks!

From: Leon Klepfish
Re: Top-Secret New Software
Phoenix, Arizona
Monday, 2:43 p.m.
Dear Fellow Entrepreneur Friend,
What if you could make a super-fast, five-minute small change to your site and detonate your bottom line like no amount of copywriting or optimization would ever do?

Would you do it?

How much more profit would this "little modification" put into your bank account in just one month if it increased your response by only a "measly" 10%?

$100?
$500?

Maybe even $1,000 every single month?

I know...the answers to those 3 questions may seem quite obvious, but still take a moment to really think about them while I tell you exactly how this "small modification" works and why making it work in 5 minutes might be the most profitable business decision that you have ever made.

The " little modification" that I am talking about is called a "Squeeze Page" -- but with unmatched power!
Now Friend, What Exactly Is A "Squeeze Page"
And How Can It Make Me Money?
Well, here is the direct definition from my own mental dictionary.

squeeze page n. 1. It's a small introductory page to a website that boosts performance by turning casual visitors into interested customers, Automatically collecting the emails of these customers to build your list, and uses the same information it collects to personalize each visitor's experience (e.g. Friend) for even more profits. See Squeeze Page Generator Friend.

That's the dry definition.

But nobody cares about that.

The juicy question is: How can having a "Squeeze Page" make you money?

The answer is 2-fold:

#1. A "Squeeze Page" will fire-up your salesletter with the power of Personalization, a closely guarded secret technique that is an industry standard in email but has almost never before been seen on the web...except by the very smart!

and

#2. A "Squeeze Page" will continuously stuff your list so full of over-qualified prospects that your mail server will be bursting at the seams ...as will your bank account.
So, First Friend, What Is The Super Secret
Of Personalization?
Well, let me tell you...Friend

If the above line addressed to you by name, then you've just witnessed the power of sales letter personalization! It may not seem like such a big deal to you, but for boosting sales there is nothing more powerful.

What do you do when you get an email addressing you as 'Dear Friend' ...one of these rare emails these days?

Well, you probably do the same thing I do: delete it right away without looking at it.

I mean, if they don't even know my name or haven't bothered to know me, then the chances of them having something useful to offer me is very slim to none.

So then, why do we have to always start our salesletters with the boring "Dear Friend" or "Dear Fellow Internet Marketer"?
Why can't we choose to show our respect for someone with his/her name?

Because, unlike in email, personalizing a salesletter used to be much more technically complicated. But with the advent of Squeeze Page Generator, you can directly call your prospect by his name from your webpage -- in a fly!

It's a proven that there is absolutely nothing in the world that gets a person's attention as much as their own name! Your name 'Friend' is the sweetest sounding word for you. So is for me!

Just by personalizing your website to every visitor Friend, How much more response do you think you would get?

20 percent? 30 percent? Maybe. But even with that small improvement, it could mean hundreds of dollars more in your bank account every single month.

The fact is, personalized salesletters have been solidly proven to increase response by 100%, 300%, even 600% if you use it cleverly.

And with Squeeze Page Generator you can collect and display not only your visitor's name, but their email and any other five pieces of information that you want.

Want to offer a super special deal to visitors from Newyork? You can easily do it.

Want to customize your site by interest, experiennce or profession? No problem.

It does not matter what your site is about, a Squeeze Page can boost your response to incredibly high levels. A little creativity, stir in a name, and you have a profitable custom page for every visitor, designed to appeal to their personal needs.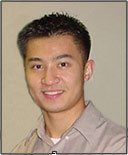 Leon, I downloaded and tested the software. You weren't kidding when you said 4 clicks! Just about every membership site I launch I have had my programmers add the personalization feature which your Squeeze Page Generator provides. I know for a fact that it greatly improves conversions on my sites. Now that I have your software, I'm going to use it on all my sites and watch the money flow like honey. Yeah!

Thanks a lot for your ingenious idea Leon.

Gary Huynh -

http://www.virallistbuilder.com
Okay Then, How Does A "Squeeze Page" Automatically Grow My List To Gigantic Proportions?
I have a question for you here Friend.

Are you seriously using something to try to collect your visitors' names and email addresses?

A subscription form? A Popup? Anything? If you aren't, then I sincerely recommend - You Must Start This Moment!

Building a qualified list that are interested in exactly what you have to offer is the most powerful marketing technique ever devised.

...And even if you are collecting your visitors' emails, you probably are not collecting them fast and too many, am I right?

Have you pondered about the percent of your visitors sign up for your list? Five percent? Ten? Maybe, if you are a gifted copywriter, that number may go up to twenty or thirty percent.

Look at it this way. No matter what your efforts, for every 3 visitors you are completely losing out on your chance with 2 of them!

That doesn't sound so good now, does it? Well, what if you could get 80% to 100% of your visitors to sign up? Imagine, your list would literally fly off overnight! Every single day you would be adding three to four times more subscribers to your list than you have ever done.

These kinds of conversion rates are what marketers' dreams are made of, and they really are possible using a Squeeze Page -- have no doubts!

Even better Friend, these are not just the random subscribers looking for free stuff, these are qualified prospects who have specifically shown interest in exactly the products and offers you are selling.

I am sure that you heard that most sales are made after the 7th contact.

Well, its damn true, you have to see it to believe it!

Imagine how much money you are losing just because you can't follow up with your customers!

Quickly set up a follow-up autoresponder sequence and your conversion rates will skyrocket. It's a proven fact.
And Squeeze Page Generator directly adds your prospects to your email autoresponder -- thus fully automating the process apart from personalizing your salespage.

In fact, I remember reading a post not too long ago that illustrates this exact and clear principle.

A marketer recalls his first product experience. He just couldn't get it to sell! His salesletter was good, good traffic to his site, a sunrise market, but no matter what, nobody would buy.

Out of sheer desperation he created a follow up autoresponder system and started offering it to his visitors.

Suddenly sales started appearing out of nowhere! At one point he was even converting 15% of all his visitors to sales.

As he scanned his logs he noticed the biggest revelation of his marketing life! Nobody, not one person, had ever purchased on their first visit. All the sales were from the follow ups!

Imagine that.

That is the power of following up with your customer.

And this is all possible for you in 5 minutes and just 4 clicks with a Squeeze Page.
Great. So How Do I Make A "Squeeze Page"?
That is the most important question Friend.

Squeeze Pages provide incredible advantages to any marketer who is using them, so why isn't the Internet flooded with them?

Because they are not easy to make ...till we decided to make it easy!

Crafting the code, putting up the personalization system, and testing it all into a website isn't a job for a novice. It is a job for a hardcore programmer charging $150 an hour for his time.

Sadly, because of the 'creation cycle', the full power of Squeeze Pages has until now been not for the faint of heart or shallow of wallet.

Only large corporations and millionaire marketers were able to conceptualize, design and integrate Squeeze Pages into their webpages and grow their already large bankrolls.

But no more! Period.
Introducing Squeeze Page Generator - the revolutionary new generation software that allows anybody to create a fully-functional Squeeze Page in just 5 minutes and with just 4 clicks and boost ANY site into money-making overdrive Friend!

With Squeeze Page Generator it really doesn't matter who you are or what your site is about. Adding a Squeeze Page to your site and boosting, maybe even doubling or tripling, your profits is as simple as Click, Click Click.
Remember Friend, only with Squeeze Page Generator can you...
Boost your site's profits with just 4 clicks and 5 minutes
Grow your list to stratosphere with every new visitor to your site
Follow up with every visitor until the sale is made - remember, most sales are made only on the 7th contact
Personalize your site that creates a powerful impact on every visitor by directly addressing him by his name
Customize your page 100% or use the 4 professionally-designed templates
Your power packed, turbo charged, list building and profit pulling Squeeze Page will be ready to upload
in less than 5 minutes!
Just 5 Minutes And Just 4 Clicks? Prove it.
Okay then Friend, closely follow me when I show you exactly how Squeeze Page Generator works.

Here are the 4 clicks I promised and I am not going to disappoint.

Step #1. Choose one of the four professionally-designed squeeze page templates.

(You can of course fully customize them later if you want.)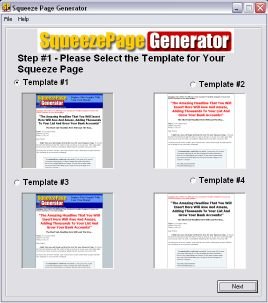 Click Next.
Step #2. Fill in the address of the autoresponder that you want to receive the collected emails.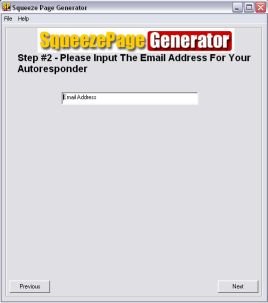 Click Next.

Step #3. Now select your main salesletter that you want to personalize

You will personalize your webpage with your visitors name, email, and any other information you want.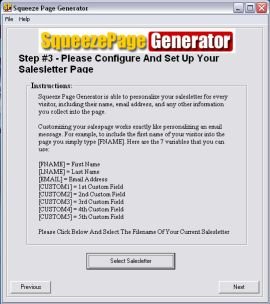 Click Next.
Step #4. Simply click on "Generate Squeeze Page".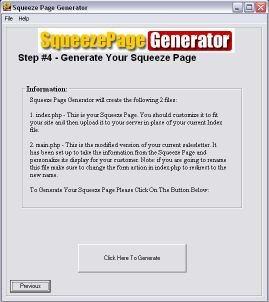 Bingo Friend, you're up and ready. Job finished and Mission accomplished!

Now upload the 2 created pages to your website and your squeeze page is fully functional, instantly generating subscribers and sky rocketing your salesletter conversion rate through the roof.

4 clicks, 5 minutes, can it get any simpler?

But possible only with the new revolutionary Squeeze Page Generator software.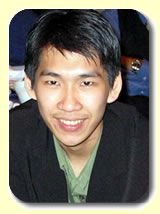 You really can build powerful relationships with your visitors by using The Squeeze Page Generator!

Do you want to increase your conversion? Then, 'personalize' your website.

And I can't find a better way to do that easily than using this software.

Imagine greeting your visitors by their first name, last name and any other personalization that you want each time they visit your website!

The best part is, it's a piece of cake to use this software.



Patric Chan -
CEO, IM Tactics Inner Circle -

www.AutomateInternetMarketing.com
That's the The True Power Of The "Squeeze Page Generator"...
With Squeeze Page Generator in your hand, you don't just get an idea but an entire software solution.
Few of the benefits of using Squeeze Page Generator:
Quick And Easy - - So simple and intuitive that you can use it right out of the box. 4 clicks, 5 minutes, and you're done!
Instant Boost To Your Site's Profits - - Effectively using the 3-pronged approach of personalization, list building, and follow ups, your sales graph can hit the sky!
Personalize Your website For Every Visitor - - There is nothing that attracts your attention as much as your own name Friend, so use it to bring out the power of your site
Follow Up With Every Prospect - - Remember, most sales are only made on the 7th contact. With Squeeze Page Generator, you will be able to follow up with every visitor and increase your sales as high as 600%
Instant List Builder At Your Disposal - - Forget about trickling in prospects one by one, prepare to be flooded by new subscribers specifically interested in your offer.
Fully Customizable Templates To Your Imagination - - With customizable templates, five custom fields, a little creativity from you, then you can turn your Squeeze Pages into a mind boggling visitor experience.
Will Boost Any Site - Regardless Of The Topic - - No matter what you sell, Squeeze Pages are proven to work miracles. From business opportunities, credit secrets, health care, to golf equipment, to baby showers, a Squeeze Page can fire up your site into profit.
Professionally Designed Templates - - Your Squeeze Page will operate and look great right out of the box, in 4 clicks and 5 minutes! No design or HTML skills needed,
And Much, Much More! - - Endless possibilities. The power of using Squeeze Pages are endless, limited to your imagination.
What Is The Ability To Skyrocket Your Site's Profits Worth To You?
This is the question that I asked you to remember in the beginning. Did you think about it?
If you have the ability to make one small 5-minute change to your site and make an additional $1,000 a month from it, month after month, after month.
What would this be worth to you Friend?
At least a $1,000, right?
Well, I could have charged $1,000, or $700, or $500 for Squeeze Page Generator. I could even have been extra generous and charged only $300 or $200. For a powerful piece of software like this, that would have been an absolute bargain.
But I couldn't. No way!. Even though I would still have had plenty of sales, such a price would have put Squeeze Page Generator out of the price range for the ordinary people that it was really designed to help.
I know, I shouldn't be doing this, but today, you can get the entire Squeeze Page Generator system, not a Lite version, not a Demo, but the entire, fully-functional system for a measly $97.00.
Yes! Just $97. That's it. Less than a $100 right investment to boost your site's profits by up to $1,000 a month, if you use it right!
Heck, if you're a bit creative, you can probably make your investment back in less than a day!
In fact, I am so sure that you are going to love Squeeze Page Generator, that I have also put together an amazing guarantee!

Check this out, order with complete confidence:
90 Day Unconditional 100% Money-Back Guarantee!!!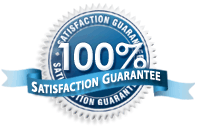 Try Squeeze Page Generator at absolutely zero risk for 90 days and make all the extra profits you want with it if you are not 100% satisfied we will cheerfully refund your purchase price no ifs, no buts, just your money back!
If you're looking for THE tool to take your marketing to the next level easily, Squeeze Page Generator is the answer.


If You Order Now, You Can Also Include These 3 Incredible Bonuses To Help You Get The Biggest Punch From Squeeze Page Generator And Your Website...
The Buy Impulse

Learn the power of 26 Secret Mind Controlling Tools that will give you: more customers who spend more money more frequently!

(Comes With Master Resale Rights!)

The 30 Minute Marketing Miracle

Let Australian Copywriting Genius, Brett McFall turn you into a marketing success within Three Power Coaching Sessions.

Audio & Transcripts

(Comes With Master Resale Rights!)

10 Steps To Killer Web Copy

Copywriting Guru and Web Conversion King, Alex Mandossian reveals his simple step by step formula for creating copy that kills!

Audio & Transcripts

(Comes With Master Resale Rights!)
Yes, Leon, I want to own the
Top-Secret

Software That Can Boost My Site's Profits Into Overdrive And Skyrocket My List Into The Stratosphere

IMPORTANT NOTE: This is a secure transaction. This means that nobody can see your data and you can own your copy of the program with confidence. Thanks.

P.S. Anything like Squeeze Page Generator has never happened before. And it has never been this easy to take full advantage of the unbelievable power of a Squeeze Page without spending thousands of dollars on a programmer!

Think for a moment Friend, a Squeeze Page can shoot-up your website's profits up to 600%, but what if it only boosts yours by an incredibly small 10%? Well, then you still could be making double your investment, every single month!

Don't delay and let opportunities pass, as I don't know how long I can keep this amazing software at such a low price.
---
Earnings Disclaimer
EVERY EFFORT HAS BEEN MADE TO ACCURATELY REPRESENT THIS PRODUCT AND IT'S POTENTIAL. EVEN THOUGH THIS INDUSTRY IS ONE OF THE FEW WHERE ONE CAN WRITE THEIR OWN CHECK IN TERMS OF EARNINGS, THERE IS NO GUARANTEE THAT YOU WILL EARN ANY MONEY USING THE TECHNIQUES AND IDEAS IN THESE MATERIALS. EXAMPLES IN THESE MATERIALS ARE NOT TO BE INTERPRETED AS A PROMISE OR GUARANTEE OF EARNINGS. EARNING POTENTIAL IS ENTIRELY DEPENDENT ON THE PERSON USING OUR PRODUCT, IDEAS AND TECHNIQUES. WE DO NOT PURPORT THIS AS A "GET RICH SCHEME."
YOUR LEVEL OF SUCCESS IN ATTAINING THE RESULTS CLAIMED IN OUR MATERIALS DEPENDS ON THE TIME YOU DEVOTE TO THE PROGRAM, IDEAS AND TECHNIQUES MENTIONED, YOUR FINANCES, KNOWLEDGE AND VARIOUS SKILLS. SINCE THESE FACTORS DIFFER ACCORDING TO INDIVIDUALS, WE CANNOT GUARANTEE YOUR SUCCESS OR INCOME LEVEL. NOR ARE WE RESPONSIBLE FOR ANY OF YOUR ACTIONS.
MATERIALS IN OUR PRODUCT AND OUR WEBSITE MAY CONTAIN INFORMATION THAT INCLUDES OR IS BASED UPON FORWARD-LOOKING STATEMENTS WITHIN THE MEANING OF THE SECURITIES LITIGATION REFORM ACT OF 1995. FORWARD-LOOKING STATEMENTS GIVE OUR EXPECTATIONS OR FORECASTS OF FUTURE EVENTS. YOU CAN IDENTIFY THESE STATEMENTS BY THE FACT THAT THEY DO NOT RELATE STRICTLY TO HISTORICAL OR CURRENT FACTS. THEY USE WORDS SUCH AS "ANTICIPATE," "ESTIMATE," "EXPECT," "PROJECT," "INTEND," "PLAN," "BELIEVE," AND OTHER WORDS AND TERMS OF SIMILAR MEANING IN CONNECTION WITH A DESCRIPTION OF POTENTIAL EARNINGS OR FINANCIAL PERFORMANCE.
ANY AND ALL FORWARD LOOKING STATEMENTS HERE OR ON ANY OF OUR SALES MATERIAL ARE INTENDED TO EXPRESS OUR OPINION OF EARNINGS POTENTIAL. MANY FACTORS WILL BE IMPORTANT IN DETERMINING YOUR ACTUAL RESULTS AND NO GUARANTEES ARE MADE THAT YOU WILL ACHIEVE RESULTS SIMILAR TO OURS OR ANYBODY ELSE'S, IN FACT NO GUARANTEES ARE MADE THAT YOU WILL ACHIEVE ANY RESULTS FROM THE SOFTWARE, OUR IDEAS AND TECHNIQUES IN THIS MATERIAL.