Hi ,
Online business scenario is witnessing a sweeping change with the arrival of the new tasty flavor - Web 2.0 Marketing! And your present strategies need to be re-examined. Let me tell you that most big Gurus are privately convinced Web 2.0 has *Very Big Things To Offer* to online marketers. And all of them are secretly working on their Web 2.0 plans for huge profits.

And even if you know nothing about this buzzword, be cool!. It's much easier than you think...And it's all here today!
A few of the new Web 2.0 Marketing benefits are explored here. These methods may seem unconventional to you at first but when you think about it you will realize the true potential of Web Marketing 2.0 waiting for you to tap and this applies to any online business you operate now!

1. Builds The Brand - YOU: Build up your personal brand and grow it continuously. You have the freedom to create exclusive communities in your niche that can be effectively used as a launch pad for many marketing functions. e.g. viral marketing, list building, product promotion and so on.

2. Shoot Right Messages To The Core Target Group: Combine content from various different sources from the existing resources your core group/community and share that new knowledge for laser targeted traffic!

3. Join With Others And Explore New Profit Avenues: Leverage the person-to-person contacts established through social networking for mutual profits. Joint venture, affiliate recruiting are some examples.

4. Develop Your Online Credibility The Fast Way: Web 2.0 Marketing is the speed way to establish yourself and your popularity in your chosen niche. Being known as an expert in your area of operation is certain business in the long run.

5. Appear At The Right Places: Gain that vital edge over others by being the first! You need to be there when a new trend happens and must be there to profit from it. Web Marketing 2.0 facilitates you to appear at right places.

6. Easy Search Engine Traffic: Search engines seem to like these new Web 2.0 sites a lot! They enjoy high page ranking and if you have back links pointing from these high PR Web 2.0 sites to your site, it can certainly help in increasing PR too.

7. Effectively Use Other's Social Networks: With simple, mutually beneficial strategies, you can bite into the time and money of others social networks. What this means is free advertisement for you along with others benefiting from you too.

8. Squeeze From The New Multimedia Explosion: Media sharing sites like YouTube have started a video explosion. Since then many video-sharing sites have mushroomed all around. They are free and you can take advantage of them by creating short inexpensive videos! A little bit of videos have shown to convert better than the conventional text.

9. Be Known As The Super Man/Girl Around: Unique and different digital material are always circulated around the Internet. Especially with Web 2.0 the social media sites. Let your site visitors bookmark them and share those bookmarks. They can also share them through many social media networks. Your unique content, videos, audios etc spreads around in high proportions giving more and more traffic to your sites.
And knowing you well , I have put together the Web's ONE & ONLY ONE Web 2.0 marketing Bonanza for you...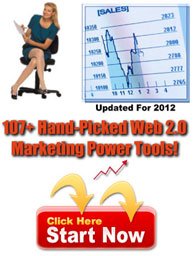 Do Not Miss Out On This Quality Item. Check Right Now:
Web 2.0 Marketing Power Tools
Visit Here Right Now
Have a great day!
Courteously -- S. Kumar
www.learnhomebusiness.com
Flash News! This package is about to be updated with another 6 more new Web Marketing 2.0 products (about 200 MB more Videos!), released just just this week making the total to 77! You will get them as well as have unlimited access to all the future Web 2.0 Marketing products that will be added to this package on a continual basis.
It's all here...
Web 2.0 Marketing Bonanza