| | |
| --- | --- |
| | A Professional Grade Fully Featured Yet So Simple to Use Ebook Compiling Software... available now at a Ridiculously LOW Introductory Price! |
And Believe It Or Not . . .
We'll GIVE You 100% Profit Resale Rights
to This Sensational Software.
Keep Every Penny of Each Sale You Make!
Before I continue further...
I would like you to take this gift home for free!
From:
Dave MacGregor
Okay, you want to know. So let's get this out of the way right now. Easy Ebook Creator is priced at the ridiculously low sum of $19.97 USD.
Surprised? Lots of others are too. Yet I have my reasons for offering you this outrageous value. I'll tell you why in a minute.
But right now, several of my fellow software developers and emarketers are telling me that I'm literally "shooting myself in the foot" by offering Easy Ebook Creator at that price.
They say that YOU will mistakenly think Easy Ebook Creator is just another piece of cheapo Mickey-Mouse software . . . (you know the kind they're talking about. You've seen it everywhere.)
They say that YOU will think I cranked out Easy Ebook Creator in a big hurry just to have something to sell for twenty bucks.
Well DON'T think that for a minute . . . because nothing could be further from the truth. This is a high grade software application. And I'm willing to PROVE it to you by letting you try out Easy Ebook Creator absolutely free of charge.
But first I want you to realize that Easy Ebook Creator is a . . .

Fully-Featured Professional Grade Software.
It has all the same working options as some other very widely used ebook compilers that go for 4 - 6 times what we're asking here. Yet Easy Ebook Creator has one huge and glaring difference . . .


The Learning Curve is Practically FLAT!
It really is THAT easy to use. Oh sure, I've included a detailed and complete user manual . . . along with handy "tip buttons" at every stage of the compiling process.
But rather than wasting precious hours trying to figure out which buttons to push first, I think you will more than likely find yourself compiling your first ebook within about 5 minutes. Easy Ebook Creator really is THAT easy to use. It is built that way.
Still, you'll quickly see that Easy Ebook Creator provides all the professional grade options you need to quickly produce the sort of clean formatted high quality ebooks that your own customers demand.
See for yourself . . .
- Fully customizable toolbar for your customer's convenience - Print, Search, and Copy functions can be enabled or disabled.

- Various screen sizing options for ease in reading. You decide which option(s) best suits your product and your customer's needs.

- Programmable trial period/expiry and registration function allows you to offer 'sample' downloads to your customers.

- HTML encrypt feature for added security - keep unethical people from pirating your hard work and substituting their own links.

- Password protect page function - even individual pages within any ebook can be locked. Your customer must order to gain access to the 'good stuff.'

- Password protect ebook function - you can protect your ebook from prying eyes by giving it a password so that only those that have the key can open the box

- Absolute expiry - you can set a date at which point in time the ebook will cease to open

- Customized Buttons - you can select the default buttons and change the text on each or use your own button set. Either way, both can have any text appended - ideal for foreign language ebooks.

- Custom logo function to set your products apart from the crowd. Your ebooks can be easily recognized worldwide on any pc.

- Drag-and-Drop file selection allows you to import and compile files from any folder or even several different folders on your hard drive. No need to waste time creating special file folders before compiling your ebooks.

- Compact sizing - requires only 526kb on your hard drive.
Congratulations Dave!
You've hit a home run, and I'm flabbergasted . . . the Easy Ebook Creator interface is well laid out and quite professional. Yet it's so quick and simple to use I actually created a perfect test ebook within three minutes of opening the zip file for the first time!
The quality of my finished ebook is just as good as what I compile with my 'other' software (that cost me $80) and the drag-and-drop feature is a real time-saver. I'm personally sold on Easy Ebook Creator. It's absolutely everything you say it is.
I just can't believe you're offering this much quality for so little cash.
Dan B. Cauthron
Earn-Revenew.com

See, I told you Easy Ebook Creator was no Mickey-Mouse toy of a software. It will literally produce the same professional quality results that you will get with other ebook compilers costing $80 - $100.


So WHY am I asking Only $19.97 USD?

And WHY am I giving you
FREE 100% Profit Resale Rights?
The answer is simple. While this version of Easy Ebook Creator is as good or better than any other ebook software on the market right now (It has been built that way!) I plan to develop an upgrade soon.
I believe that when thousands of people see the exceptional ease of use, the outstanding benefits and features, and the high quality of work done by this version, they will rush to get the next version.
In other words, I want this version of Easy Ebook Creator to be circulated far and wide.
And in the process I want you to be able to offer a sensational value to your own customers, while pocketing some hefty profits for yourself. It's a win/win situation for both you and me . . . and those are much too rare these days.


Now Here Is My 100% Risk Free Guarantee

| | |
| --- | --- |
| | I really don't expect this to happen very often, but in case you find yourself dissatisfied with Easy Ebook Creator for any reason at any time in the next 30 days, please let me know. I will issue a full and immediate 100% refund of your purchase price. By the way, that is not a promise . . . it's a FACT. |
Whether you intend to use Easy Ebook Creator for your own ebook production, or you just want to offer your customers an outstanding value they will thank you for . . . I doubt that today you will find a better bargain or a better profit opportunity than Easy Ebook Creator at $19.97 USD.
So there is really no reason why you shouldn't order Easy Ebook Creator right now. There is nothing at all to risk, and certainly nothing to lose.
In fact, you have a lot to GAIN. Those $19.97 sales in YOUR pocket can add up fast . . . so order right now before your competitors beat you to it!


Order Now
ONLY $19.97 USD







To your sales and success!
Dave MacGregor and S. Kumar

Super Duper Bonuses!- Special From Learnhomebusiness.com


Special Bonus #1

Special Bonus#1:
eBook Generating Machines
by Terry Dean

How Would You Like to be able to come up with New eBook Ideas Every Single Day For the Rest Of Your Life?

The starting key is, How to to come up with the right product idea in the first place?!

Retail Price $17
With 100% Resell rights!

Special Bonus #2

Special Bonus#2: eBook Cover Creator

Its a unique marketing tool and image-editing software that creates a virtual package for your eBooks. Easily make colorful image of your eBook. Also use your company's existing logos and promotional images to create a virtual eBook Cover with ease, whether you've actually developed packaging or not.

Box shots are a key motivating factor in potential customers' perception of overall product quality and their willingness to download your product. You must have a well designed eBook cover.

Important Note: eBook Cover Creators are sold for over $30! Once You have this, there is no need to buy another eBook Cover Creator! It has all the professional features to make stunning eBook/software covers in a flash!
Is it a bargain deal at $19.97? Then please place your order for "Easy eBook Creator " Now!...and many, many thanks.

Order Secure Now - Only $19.97 for Everything
(Credit card/Online Check)
Click here and receive your
download information with the Free Extra Bonuses
More Bonuses For You! These Super Mega Gifts will complete everything you will need to get going!
Bonus#1. Writing Success Secrets ($19. 95)
by Shaun Fawcett, M.B.A
Writing Success Secrets is a comprehensive "how-to" eBook designed to help people with their everyday writing tasks and kick-start the writing process.
Its 56 pages are packed with over 13,000 words of tips, tricks, advice and information on how to improve one's writing in just about every practical area where writing is required on a regular basis. The seven chapters cover 14 different writing topics including: letter writing (personal, business), business reports, resume writing, writer's block, writing tools, and more. This eBook is a "must have" reference resource for anyone wanting to improve their practical writing skills for home and/or business.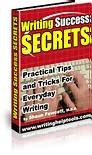 Value $19.95
-Resell Rights Included-
Bonus #2. 55 eBook Marketing Opportunities

by Monique Harris

This is simply a well-developed list of marketing resources that you can start using IMMEDIATELY to increase your e-book sales. It's 20-something pages of pure marketing meat.

And best of all, you get it free with the purchase!

Here's a list of everything you'll find--

Directories Where You Can Feature Your E-books

E-bookstores
2 E-bookstores That Will Pay You 100% Royalties
5 E-zine's Where You Can Announce Your E-book News
New Registry Service For E-books
The First Electronic Book Club
New Directory For Electronic Literature
Marketing Opportunities For E-book Authors
The Perfect Site For Promoting Your Short Fictional Works
5 High-Profile Internet Marketing E-zines That Accept Article Submissions and Excerpts From Your E-book
Web Site Where You Can Market Your Writing E-books
Web Site Where You Can Sell Your Travel Books - (or at least pieces of it)
...And many more Must-Have Tips and Resources!
Bonus #3. 147 Killer ePublishing Strategies

by Larry Dotson (Value $14)

You need this...to detonate your eBook profits. And its free to you!

20 Questions To Ask Before Creating An eBook

15 Creative Ways To Make Money With eBooks

20 Ways To Increase Your Traffic And Sales With

eBooks

10 Ways To Increase Your Free eBook Downloads

10 Easy Ways To Increase Your book's Size

10 Concerns To Have Before Creating A Members

Only Web Site

12 High Readership Content Ideas

10 Reasons To Sell A Fee Based Subscription Ezine

40 Hot Information Product Ideas

100% Resell Rights!
All 6 together is a complete eBook Creation package. What you get is,
Easy eBook Creator-
$19.97 (With Resell Rights)

Writing Success Secrets by Shaun Facett-
$19.95 (With Resell Rights)

147 Killer ePublishing Strategies by Larry Dotson -
$14 (With Resell Rights)

55 eBook Marketing Opportunities by Monique Harris

Special Bonus#1: eBook Generating Machines by Terry Dean -$17 (Comes With Resell Rights)

Special Bonus#2: Free eBook Cover Creator Software
Order today! No way you can Lose With Our Zero Risk Guarantee,


100%
Money back
Guarantee
GUARANTEE: The No-Risk Proposition ensures that you get 100% money back guarantee for 30 days and if for some reason you want the refund kindly send us an email. You will be issued a prompt and courteous refund. Every penny of it-No questions asked. Order "Easy eBook Creator " With Complete Confidence Now.
Look Friend, Guys charge over $99 to design just ONE eBook cover, "Easy eBook Creator... along with Resell Rights, and with these Extra Bonuses - Its a bargain at $19.97!
Add to it 4 eBooks worth $71 with 100% Reseller Rights, Free eBook creation info, Free eBook Marketing Strategies and All of the special Bonuses !
Is it a bargain deal at $19.97? Then please place your order for "Easy eBook Creator " Now!...and many, many thanks.

Order Secure Now - Only $19.97 for Everything
(Credit card/Online Check)
Paypal Accepted
Click here and receive your
download information with the Free Extra Bonuses!
Grab this all time Greatest Internet Offer Now!
P.S. Take advantage of the Special Bonus Offer!. This offer is limited to first 500 customers only! Act Now!
IMPORTANT UPDATE: Due to the overwhelming response coming in to this offer, Free Reprint Rights could end at anytime. Wait too long, and it may be too late. Take Action Now!
.............................................................................................................