"Listen, As Two Top Marketing Experts Conduct a 2-Hour NO-HOLDS-BARRED Live Training Session.

"Eavesdrop" on their candid talk about what works and what doesn't! You will be amazed at their answers"

Plus: Order Today and Get 100% Master Resell Rights!




Great call yesterday. Took lots of notes and learned some new things. Those were good points you made (Randy) about segmenting lists.


Rick Adams www.costlyonlineblunders.com


From: Armand Morin and Randy Charach

After 2 Hours and 23 minutes I was totally drained after spilling my guts to 323 people!

Before I continue further...I would like you to
take this gift home for free!

Let me introduce myself. My name is Armand Morin of www.GoGenerator.com and my Internet Marketing partner on this Exclusive call, was no other than niche marketing expert Randy Charach from www.RandyReport.com.

You have to understand... at the last minute we decided to conduct a 2 hour Internet Training Call a few Saturdays ago and we really did spill the beans on many different topics.

This call was 100% unscripted and you will listen as we talked about almost every aspect of Internet Marketing in a very candid environment. We didn't hold back a single thing, in fact, we went way over what we even intended to. You will benefit from all of this.



We recorded the whole thing!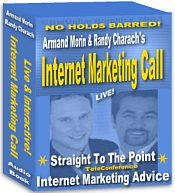 You can now get your hands on this
EXCLUSIVE once in a lifetime event and listen to it
from the comfort of your very own home.

Well, unlike so many other 'information products" out there, this is free-flowing discussion with nothing held back. The information is current, original, honest and useful to you right now. It truly can help you take your business to the next level.

Armand & Randy really kept their word about no-holds-barred! I wrote frenetically & was elated that they were recording. I'm so glad I decided to get in on this call! It is chock-full of 'info gems' to help us all succeed!

Donna Maher misspelleddomains.com




You see, Randy and Armand regularly speak on the phone privately to share their latest developments and brainstorm new ideas. And, in case you don't already know, they are two of the most successful marketers on the Internet today. Their ideas produce tangible results.

Just recentlyArmand released a new software product, SP Generator, and in just 10 days sold 442 units at $97. Randy's latest book, Niche Magic has achieved rave reviews and along with other recent projects has contributed to 6 figure returns in a few short months.
Learn why you need to build a huge optin list. - Listen as Randy and Armand discuss proven ways to build your list and some CONTROVERSIAL methods many people don't talk about.
Discover what the FIRST STEP is to Internet Marketing. - If you miss this one step, you might as well throw everything in the bag. You are done. Do it, and you will have a long a prosperous business.
How do you create and Internet Marketing Buzz? - Sit back and relax as I tell exactly how to release your next product out to the market place and make every person stand up and take notice.
I was on your call Saturday night....Thanks for the great content."

Steve Wylie www.stevewylie.com
See why Randy became an "overnight" success online. - Randy will tell you exactly how created a huge income online in no time at all. You can do the exact same if you follow his advice.
What is the biggest mistake most marketers make online? - Yes, we will tell you the biggest mistake most every marketer makes and how you can save yourself from making them too.
Why is it important to track your website stats. - We guide your through why it is important to track all your vital website statistics and more importantly how you can do it.
Are all customers created equal? - Hear our thoughts on this topic and be amazed at what our response is. It is not what you think.
How to maximize Joint-Ventures and how to do it. - This is probably the most misunderstood part of marketing online. Many people have no clue how to properly get a joint venture going. We tell you what works for us.
What's the best way to get higher profits from the same customers? - We go into detail about how to obtain higher profits from existing and new customers every day of the week.
This is just a small portion of what you will learn. Quite honestly we were amazed ourselves as to all the different topics we covered in a 120 minutes. I know you will be amazed, too.

"Thanks so much for hosting this event and your teleseminar today. It was very helpful in sorting the smoke and mirrors from what really works!"

Dawn Holman [email protected]


No B.S. we lay out there in our own way. Let's be honest... there are many ways to succeed online. We can only tell you what has worked for us. The next step is really up to you and what you do with the information once you listen to it.



100% No Questions Asked Money Back Guarantee!

Listen to the full 120 minutes of the jam-packed interview, use the information and if you are not 100% satisfied, simply let us know and we will refund your money immediately right there one the spot. We wouldn't put such a guarantee is we didn't think this information will help you tremendously.



Purchase Today and Receive 100% Master Resale Rights!

We could have charged several hundred dollars for this information. That wasn't our main intent. We wanted to give everyone information they could use immediately and create success stories.

Order today and you will also get 100% RESELL RIGHTS to this product. Yes, you read it right. When you purchase this product today, you will be able to not only learn all the valuable marketing information, you will also be able to sell this product to others and keep 100% of the profits! It just doesn't get any better than this.

The Decision is Now Up To You!

There you have it. Now the ball is in your court.

You can continue to market in the way you have been doing, but is that really enough? If it isn't you need to do something different. You need to educate yourself on what works and what doesn't. Then apply yourself.


Download Your Files Instantly!

Order Secure Now
- Only $39.95 for Everything -
(Credit card/Online Check)
Best of Success,
Armand Morin and Randy Charach
P.S.- As a hidden bonus we will also tell you how to take this one product and generate hundreds of dollars in commissions. No bull!