In brief:
1. You will be able to install the BEST ONLINE MANAGEMENT SUITE: JVManager, on your server. Even if you are a GURU with 100 years of online experience on Internet Marketing you will see how JVManager can HELP you rebuilding your business on a STABLE Basis... no matter what you sell..
2. You will get the Best Seller Ebook: Never Pay for ANY product offered with Master Resale Rights Again, Get Access Into the Ultimate Collection of ebooks, software and scripts you can resell and ALSO resell the Access and the Master Resale Rights... You will start getting orders and creating your offers asap: Load JVManager with BSE's products and start reselling...
3. Use Special Offer Manager to automate your Special Offers and Dynamic Pricing Generator (new version!) to increase your Sales!
In details...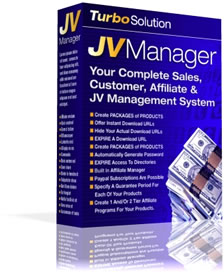 Validate JVManager normally costs $347.00
(...But Do Not Buy!)
I can talk for DAYS about this script... The sales letter as it is right now counts 17 pages and describes just the features of the last version released: 3.03. For your information yesterday I got version 3.10 and today (Jan. 31) I received and started testing version 3.11 that will be released this week.
Basically: You MUST use 1 software (either a script or a remote service) for CENTRALIZING your online activities: sales, subscribers, customers, affiliates, Joint Venture partners and all the sub-activities in each category, like Multiple Payment Gateways, Special Commissions for JV Partners, Different Affiliate Groups, etc.
I'll put it simply: If you don't use CENTRALIZATION you're destined to FAIL no matter WHAT you sell online; and JVManager is the BEST solution offered today. There are some other scripts offered - I know. There are also some remote services (shopping carts) - I know... And because I KNOW what all of them do, I created the BEST solution: a script that has almost EVERYTHING. In the worst possible case: In JVManager you can find what you CANNOT find in other solutions...

---
Validate the Best Seller Ebook - Master Resale Rights' License costs $147.95
(...But Do Not Buy!)

You all know BSE. Click here to see the products included. I know there are other "collections" online, since I was the "example" that was duplicated:) BSE INCLUDES most of those collections too. With the Master Resale License, you can resell:
the access to the collection,

the resale rights of that access and

the Master Resale Rights.
---
Validate Special Offer Manager normally costs $97.00
(...But Do Not Buy!)
This is the script that won Allen Says' and Terry Dean's testimonials. Simple to use, it does exactly what it promises: it allows you to create, run and maintain Special Offers Automatically. Again: there is NO better solution offered online. Users of SOM know it. You can read Carmen Maranon's review of SOM here.

---
Validate Dynamic Pricing Generator - NEW VERSION coming soon - will cost approx. $67.00
(...But Do Not Buy!)
Well... you all know Dynamic Pricing Generator... right? Some of the features of the new version I CAN reveal here:
You can create multiple offers.

You can accept Paypal(R) and 2Checkout(R) payments.

Customers reach the "Thank You" page instantly upon the completion of their orders.

A 2-tier AFFILIATE PROGRAM with a UNIQUE TWIST is also built in...

100% template driven

Multi-language: you can edit it to "speak" your language...

and many other features I can NOT reveal right now.
You will get the old version with Master Resale Rights and the new version for your own use (no resale rights will be offered right now.)

---
So... what you get through this offer:
JVManager - $347.00

Special Offer Manager - $97.00

Dynamic Pricing Generator - NEW VERSION - approx. $67.00

Best Seller Ebook - Master Resale Rights' License - $147.95
$347.00 + $97.00 + $67.00 + $147.95...
Total cost of all the above products: $658.95
You'll also get 2 more products you'll love as a Surprise Bonus!
More information inside:)
The TURBO element of this offer is that...
...you get ALL the products above for 1 low price of $247.00 AND YOU ALSO GET......an UNLIMITED membership...